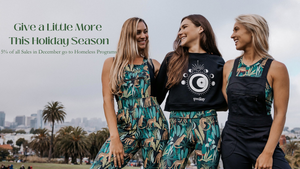 Hello Beautiful,
Swaay is a small female-owned and operated business. We create consciously made clothing in San Francisco. Our high quality fabric is milled from recycled plastic bottles. Swaay is designed for an active lifestyle; from hiking to yoga and dance we got you covered. Our Swaay style is also designed to take your from the studio to the street because we believe functionality shouldn't compromise fashion.
We also believe how you dress is an opportunity to help the planet. When wearing Swaay, we not only look good, but we feel great knowing that we're part of something bigger.
Our mission is to uplift and empower you through our vibrant prints and ethically made clothing.

Blog
---
It was the dead of winter with more rain than Northern California had experienced in recorded history.  I had to get my mind in warm weather spirit and inspire designs...
Hey Swaay Sisters!  As we evolve and continue to grow our blog, we want to shine light on individuals within our Swaay Sisterhood who inspire us with their stories while rocking...
Swaay Stories - Cosmos and Creation   I love astrology and the information that the cosmos contain to help guide us and navigate life.  I value taking moments outside of...